We're Your Toronto Drip Irrigation Specialists
Whether you already have a drip system, or whether you're interested in having one installed, you're in the right place. Our team can work with a wide variety of previously installed drip irrigation systems or design a new one from the ground up to meet your plants' unique watering needs.

Why Use a Drip Irrigation System?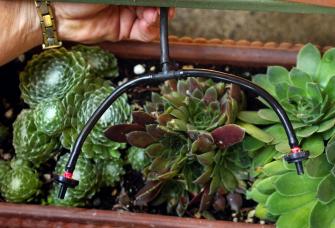 There are many reasons to install a drip irrigation system, instead of an in-ground system or watering by hand:
Water Conservation
Even the best in-ground sprinkler systems can waste a bit of water. By applying water directly to the roof, your drip irrigation system will waste significantly less water to evaporation and runoff. With the price of water constantly on the rise, homeowners typically find that a drip system can pay for itself in a year or two.
Plant Health
When using an in-ground sprinkler system, it's difficult to estimate how much water each plant will really get. Soil absorption rates, landscape slope, and water pressure can all make the math a little fuzzier, and your plants will suffer for it.

A drip irrigation system takes that guesswork out of the equation, allowing you to dial in exactly how much water each plant should get. Since the surrounding soil will be kept drier, you'll also have to deal with fewer weeds.

Flexibility

It's easy to expand an existing drip irrigation system to other planting areas, allowing you to water vegetable gardens, planter boxes, potted plants, and shrubs from the same system.
Convenience
With the simple addition of a hose timer, your drip system can become a fully-automated irrigation system that takes hand watering and zone management out of the equation, allowing for stress-free watering.

We Only Use the Highest quality Drip Irrigation Equipment
Most of our drip irrigation equipment is manufactured by Rain Bird and Orbit, ensuring that you'll get a system that will last for years to come with only minimal maintenance.

Call Our Toronto Drip Irrigation Specialists Today
If it's time for a drip irrigation expansion, repair, or installation, we're the team you should call. Our clients know that our professionalism, technical expertise, and fair pricing make us the best choice in irrigation anywhere in the GTA. Call today to learn more, or to get your job scheduled.